Which Ankle Ice Pack Is Best for You?
With so many ice packs and cold wraps being sold online, it's easy to get lost searching for the best product. Websites such as eBay and Amazon offer thousands of products, all of which make wild claims and ludicrous offers. So, which is the best product for your injured ankle? Below, a list of our reviews and tests of the products we found for ankle injuries, and the real ratings we think they should get.
One Size Fits All?
Everyone implies that their ice pack is superior, but are they really? It's confusing trying to find the right products for a "one size fits all" world. We have compiled a list of qualities that someone would generally look for in an ice pack to help with all of the confusion. Click here for a no-fail guide on what to look for in gel packs.
King Brand ColdCure Achilles Wrap
Best Performance Overall
$50.99 - $54.95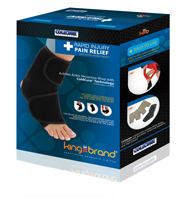 The wrap offered by King Brand has the best performance, quality and treatment by far. This 'ColdCure' Achilles wrap is made from a very comfortable, neoprene fabric and offered complete coverage for any type of injured ankle. It comes with multiple gel packs for a non-stop cold therapy treatment and each of the gels had exceptional cold capacity. The wrap itself is made from high quality materials and doesn't feel like a burden to wear. It is hard finding any flaws in this product and the King Brand Wrap was well deserving of our first place award.
Wraps Offered At: kingbrand.com
King Brand Basics Achilles Cold Pack
Great Functionality and Value
$24.99 - $29.95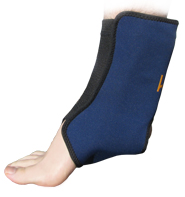 Dependable performance, cheap price, excellent quality! All qualities of the KB Basics wrap, also from King Brand. Though this ankle wrap did not quite reach the caliber of the King Brand Achilles Wrap, it still surpassed the rest of the competition. It offered the same high capacity gel packs as the King Brand ColdCure Wrap, but this economical version has one gel that's affixed inside the wrap. The wrap was easy to slip into and was aesthetically pleasing. The cold pack covered the full ankle, and could provide treatment for any injury location. So, this wrap didn't offer quite enough to top first place but it's low price tag makes this cold pack an excellent runner up.
Wraps Offered At: amazon.com
ActiveWrap Foot and Ankle Wrap
Solid Performance but Nothing Exceptional
$29.95 - $75.33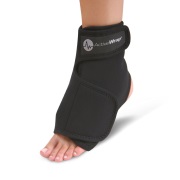 This wrap had a solid performance, though it wasn't particularily impressive. The heat and ice packs offered so-so coverage for most injuries and could hold the cold long enough for the recommended treatments. The wrap is somewhat comfortable to wear and can hold shape while moving. On the other hand, the price is rather high for the basic materials used in it, and some people find the coverage on the ice packs too small for their needs. In summary, this wrap offers simple cooling and heating for injuries, and not much more.
Wraps Offered At: gymsupply.com
Cold One Ankle/Foot Ice Wrap
Decent Design But Way Overpriced
$69.95 - $73.95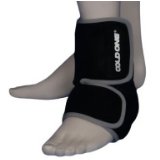 This wrap would be great if it were in the $40-$50 range, but in the $70 range it's not a good buy. While the wrap fit ok and was able to stay on and stay cold for the duration of the treatments, it is nowhere near the quality I would expect from a $70 product. Also, this wrap doesn't work on people with smaller feet. Women with size 6.5 feet and smaller will find that it's much too large for them. Overall, it's an effective, durable wrap but there are less expensive options out there that are much better.
Wraps Offered At: dme-direct.com
Thera Pearl Ankle and Wrist Wrap
Hard to Use and Ill-Fitting Shape
$10.59 - $12.99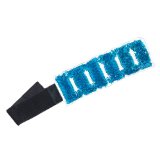 Thera Pearl's multi purpose ankle and wrist wrap was not a very strong competitor. Though it was extremely cheap and had the lowest price on this list, the wrap's design flaws made it a difficult product to make use of. The size and shape of the wrap were completely off, as the wrap was far to small for many ankle sizes and injuries, and could only be applied to the higher part of the ankle. Also, the beads in the wrap felt somewhat uncomfortable, and could not hold for a long time at all (under 10 minutes in most situations). Though the price tag may attract some customers, overall, this wrap only offers very poor cold treatment and lacks in many core aspects.
Wraps Offered At: therapearl.com
Elasto Gel Hot/Cold Wrap
Poor Cooling and High Price
$30.40 - $78.57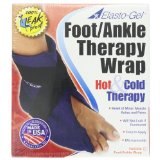 Though this wrap seemed to have potential with many positive reviews and an interesting dual purpose concept with both heating and cooling, unfortunantely its performance was severely hindered by many design flaws. First off, the cold capacity of the gel used in the wrap was very minimal, and often did not contain enough cold for relief from many ankle injuries. Also, the wrap would quickly run out of cold, and on average would last between 8 and 10 minutes. The price range of about $30 - $80 is also quite high compared to other products, all in all making this product too expensive for its poor performance.
Wraps Offered At: amazon.com
Mueller Hot/Cold Wrap
Rough on Skin, Sub-Par Performance
$11.66 - $21.95
It's surprising to see how many positive reviews the Mueller Hot/Cold Wrap has gotten. The hardest thing to get past with this product was the material, which was hard, rough and scratchy. It made treatments almost unbearable. When you have an injury, the last thing you need is further discomfort. The material also makes the wrap unmoveable and stiff, so it's difficult to move the ankle without the material digging into your skin. In regards to performance, this wrap was mediocre. The cold quickly dissipated and the product itself didn't fit the ankle well. The price tag for this wrap is definitely on-target for what you get.
Wraps Offered At: runnerinn.com
Polar Ice Foot & Ankle Wrap
Uncomfortable & Cold Doesn't Last
$22.45 - $33.25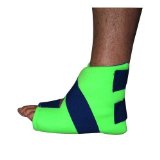 First of all, this wrap is not comfortable at all. It's made of a cheap fleece material that you would not expect a wrap like this to be made of. The fit is extremely stiff and doesn't allow for much movement. It's like wearing a cement block on your foot. Second, the cold barely lasts for 15 minutes. The ice inside melts very quickly. Just when you're starting to notice it working, it stops! It's hard to get much use out of it when you have to keep putting it in the freezer every 15 minutes. Despite the discomfort, it would be somewhat usable if the cold lasted a little longer.
Wraps Offered At: brownmed.com
Theramed Universal Dual-Temp Cold Pack
Misleading Dimensions, Leaky Product
$12.77 - $24.50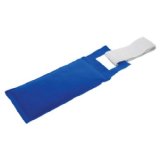 It's hard to find anything good to say about the Theramed Cold Pack. While it's fairly inexpensive, it's hardly worth the price for all the flaws it has. For one, it's much smaller than anticipated. The dimensions that were advertised make it sound much larger than it really is. While this product is meant to be universal, it's really not suitable for the ankle. It just sort of lies on top of the area and doesn't conform at all. The worst thing about this Cold Pack was the quality. This product didn't last long. After about a dozen treatments it was already leaking everywhere!
Wraps Offered At: amazon.com
Where to Buy
The above mentioned wraps are available in many places. Some popular sites that carry many different ice packs for your ankle injury needs are Amazon, eBay and Walmart. Also some of the wraps companies had their own websites for their products such as theKing Brand Products. Unfortunately, we could not find an ankle ice pack at Walgreens and did not find any Target ice packs.
Additional Reading and Links
Copyright 2011-2018 King Brand Healthcare Products® Limited. All Rights Reserved.
Meniscus Injury Treatment,
Muscle Injury Treatment,
Neck Injury Treatment,
Plantar Fasciitis Injury Treatment,
Shoulder Injury Treatment,
Tendon Injury Treatment,
Wrist Injury Treatment,
BFST Wraps,
Blood Flow Stimulation Medical Devices,
Blood Flow Stimulation Therapy,
Blood Flow Stimulation Wraps,
LCL Injury Treatment,
MCL Injury Treatment,
ACL Injury Treatment,
PCL Injury Treatment.
King Brand
®
ColdCure
®
Cold Therapy ice packs and gels are the best solution to your ankle soft tissue injury. King Brand
®
ColdCure
®
RigiGel
®
Ankle Wraps hold the cold longer, stay in place and are safer than any other product. Treat your ankle pain with King Brand
®
for the best results.